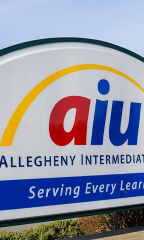 Who we are
At the Allegheny Intermediate Unit, we touch the lives of hundreds of children, families and educators every day.
Our caring staff of educators, administrators and support staff provide specialized services to Allegheny County's suburban school districts as well as non-public, charter and vocational-technical schools.  Our agency is a liaison with the Pennsylvania Department of Education and we proudly operate three schools for exceptional children, 10 family centers and about 130 programs for children, adults and families.

Whether it is helping children with disabilities, providing services to families in need or teaching educators how to build stronger schools, our employees make a difference in the lives of others.  At the AIU, everyone makes a difference. 
Browse Jobs
Browse jobs by type or location.